Halloween 2015 is coming, and Hypixel's event updates as well! Hypixel's Halloween event updates are split to 2 updates: Trick and Treat.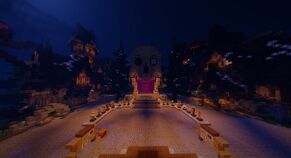 "The First of 2 Halloween Updates is here! We've given the main lobby a face lift and few other... features. Don't get spooked by all the skellingtons!"
This update contains Halloween lobby only. Released Oct 9, 2015.

Released Oct 12, 2015, 2nd update - is much more exciting - it brings Halloween Mystery Boxes! There are a total of 17 exclusive cosmetic items you can get via the Halloween Mystery Boxes.
Rank Perks Edit
VIP and VIP+ will be able to claim an extra 7 Halloween Mystery Boxes during October
MVP and MVP+ will be able to claim an extra 14 Halloween Mystery Boxes during October
TIP: You can also buy these extra Halloween Mystery Boxes at http://store.hypixel.net.
More Info Edit
All Halloween Mystery Box content stays on your account forever.
At 00:00 November 2nd EST - Halloween Mystery Boxes no longer dropped or given by Delivery Man.
You can only get Halloween Mystery Boxes during this time of year - the content will not be used again until next year.
No rank is required to open Halloween Mystery Boxes, everyone gets them!
Idling on housing or playing a certain game does NOT increase your chances of finding a box.
Halloween Mystery Boxes are rarer to find by playing than normal boxes - you can only get 1 every 3 days roughly.
There is no star level on Halloween Mystery Boxes, they are all equally awesome!
The boxes are EXTRA boxes. So they do not affect the amount of normal Mystery Boxes you get.
How can I obtain Halloween Mystery Boxes?

There are 3 ways of obtaining them:

You can find them by playing any game on the network.
If your rank is VIP or above, you can claim extra Halloween Mystery Boxes via the Spooky Man in lobbies.
You can also purchase them on our store at http://store.hypixel.net/
Does finding Halloween Mystery Boxes in games reduce the amount of regular Mystery Boxes I can find?

Nope! Halloween Mystery Boxes are given as an extra bonus.
If I purchase them from the store, does it affect how many boxes I will be able to find by playing games?
How often can I expect to find Halloween Mystery Boxes when playing games?

You can expect to find a Halloween Mystery Box approximately once every 3 days throughout the rest of the month.
When will Halloween Mystery Boxes no longer be obtainable?

On November 2nd at 00:00AM EST.
Rarity
Name
Rare
Bat Launcher Gadget
Pig Zombie Hat
Ghast Hat
Skull Hat
Vampire Suit Boots
Epic
Evil Pumpkin Hat
Marionette Hat
Skeleton Morph
Witch Pet
Vampire Suit Chestpiece
Vampire Suit Leggings
Legendary
Vampire Wings Cloak
Scarecrow Gadget
Haunted Mansion Theme (Housing)
Witch Morph
Skeleton Horse Pet
Vampire Suit Head
Note: Full Vampire Set Bonus: Allows the wearer to turn into a bat when they fly.