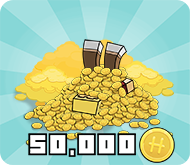 There are 4 network-wide currencies on the Hypixel Network, and 2 outdated currencies.
(Some games like Skywars add a second currency which is not network-wide)
Active Currencies
Edit
These currencies can be exchanged by gameplay or cosmetic perks, items or kits
Removed Currencies
Edit
These currencies were Active at a time, but are not usable nor referenced anywhere on the Hypixel Network
Controversial status
Edit
Some network-wide elements are collected like a currency but aren't exchanged (they can't be losed at all)
Karma

The Karma is often considered as a "convivial currency" but it can't be used anywhere

Hypixel Levels (or technically Hypixel Experience)

Even if the EXP is gathered in the same way a player collect Coins or Credits, the Levels are not losed in order to obtain the Level Rewards
Ad blocker interference detected!
Wikia is a free-to-use site that makes money from advertising. We have a modified experience for viewers using ad blockers

Wikia is not accessible if you've made further modifications. Remove the custom ad blocker rule(s) and the page will load as expected.