The gifting system was announced on April 8th 2016 by Zumulus.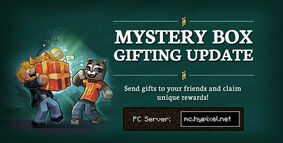 It allows players to send bundles of Mystery Boxes to their friends.
Obtaining
Gifts can be obtained either through the server shop, or the daily reward.
Generosity
When players receive a gift and open it, they will radiate with generosity for the next game they play.
The generosity system has been 'exploited' to create XP parties. This system is explained in more detail by Q__T in this forum thread.
Ad blocker interference detected!
Wikia is a free-to-use site that makes money from advertising. We have a modified experience for viewers using ad blockers

Wikia is not accessible if you've made further modifications. Remove the custom ad blocker rule(s) and the page will load as expected.