Hole In The Wall is a mini game incorporated in Party Games 3, but is also playable independently. The objective is to fill in the blank spaces of a wall that is approaching a board surrounded by white stained glass. If the blocks placed fit perfectly into the wall when it touches the white glass border, you will gain points, but a reduced amount of points will also be gained if just some of the blocks fit into the wall. The top few scores after the first phase will move into a more difficult playoff round, and the highest scorer there wins.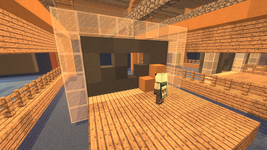 It is most likely based on the UK Tv show, 'Hole in the Wall'.
Ad blocker interference detected!
Wikia is a free-to-use site that makes money from advertising. We have a modified experience for viewers using ad blockers

Wikia is not accessible if you've made further modifications. Remove the custom ad blocker rule(s) and the page will load as expected.