The following article is still a work in progress.

What is being worked on?

More information if needed.

Work-in-progress pages are automatically sorted into this category.

  
The Mystery Vault is the only place where Mystery Boxes and Event Boxes can be opened. It was revealed in The Mystery Update on Aug 20, 2015.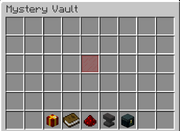 The gift head is the Gift Inventory, where all you Gifts are located, along with progress to Gift Milestone Rewards
The Book Icon shows Mystery Box Information. It contains the text, "Mystery Boxes can contain almost any lobby comestic feature and Housing block. To earn Mystery Boxes, all you have to do is play minigames on the server!" In addition, it shows the last five items obtained from mystery boxes.
The Redstone icon is the Credit Converter, which converts 180 Hypixel Credits into 1 Mystery Dust.
The Anvil icon opens a Mystery Box creation menu. In this menu, Crafted Mystery Boxes #1-3 can be crafted for Mystery Dust.
The Ender Chest icon is the Mystery Converter, which converts 2000 Hypixel Credits into 1 ⭐⭐⭐ Mystery Box.