The following article is still a work in progress.

Work-in-progress pages are automatically sorted into this category.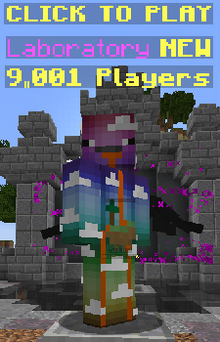 The first version of Labs is shipping with 5 modes:
Blizzard
Edit
A huge snow storm has drifted through the map! Collect and throw snowballs at other players to damage them or knock them off the map. And if you stay on your spawn island for too long, destructive snowballs will destroy your island!
TNT Madness
Edit
You asked us to fix TNT jumping, so we went one step further. In this mode there is no explosion damage and we've added different types of custom TNT you can use to launch yourself (and others) around the map. Destroyed blocks will drop even more TNT.
A very fast-paced game. Spawn island chests contain Enderpearls which can be used to travel quickly, but when thrown you will physically ride the pearl and can be damaged. Very quick, very fun.
Floor is Lava
Edit
Any blocks stepped on will start to break slowly and turn into lava. As the game progresses, blocks break even faster, meaning you have to constantly move to stay alive. Iron blocks (and other tough blocks) break slower, so loot quickly and use these to your advantage. 
Kill by Color
Edit
All players have different colored armor, and start with different colored dyes in their hotbar. You can only damage an armor color by hitting that player with the dye of the same color e.g Red Dye can damage Red Armor. Pick up more armor to survive longer, and swap your dyes quickly to deal the most damage!
Ad blocker interference detected!
Wikia is a free-to-use site that makes money from advertising. We have a modified experience for viewers using ad blockers

Wikia is not accessible if you've made further modifications. Remove the custom ad blocker rule(s) and the page will load as expected.