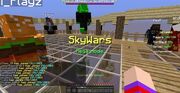 The following article is still a work in progress.

Work-in-progress pages are automatically sorted into this category.

  
Mega is played with 100 players, with players split up into teams of 5. The maps are much larger than Solo and Team mode maps. Mega Mode also has unique kits and perks separate from Solo, Teams and Ranked. Cross-teaming (joining up with another team) is not allowed in Mega mode, and it is encouraged to report those who do so.
Finale
Maereen
Northern
Shrooms
Perks in mega are incredibly expensive compared to solo or teams perks.
All mega perks cost:
Level 1- Found in soul well.
Level 2- 25000 coins.
Level 3- 50000
Level 4- 100000
Level 5- 125000
Necromancer and Black Magic cost:
Level 1- Found in soul well.
Level 2- 50000
Level 3- 150000
Level 4- 200000
Level 5- 250000
Nourishment, Instant smelting, and Marksmanship are found in the soul well and cannot be upgraded.